At Colorado Springs Neurological Associates, providing personalized care is our top priority. We know that you have options when it comes to choosing where to receive your treatment, which is why we've set out to provide a personalized experience focused on comfort and expertise.
Please call 719-306-0010 to learn more about our infusion suite or to schedule an appointment (fax number: 719-306-0011).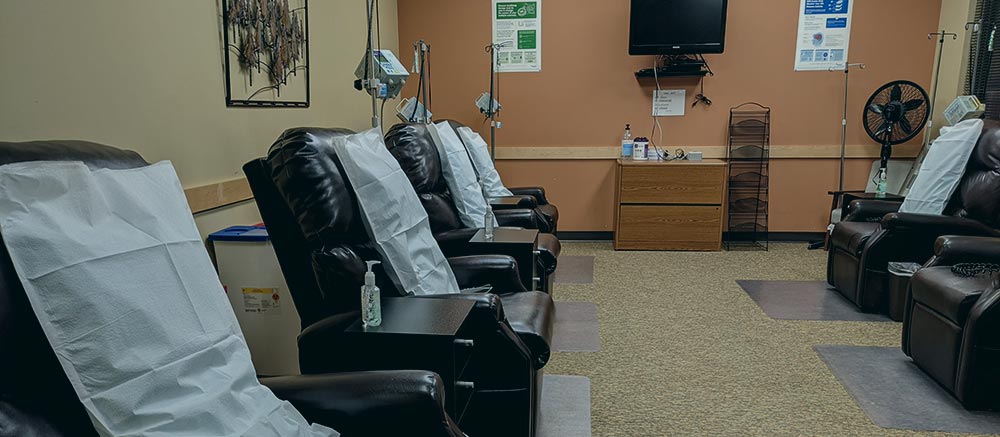 Individualized, Friendly Care
The infusion center at CSNA provides comprehensive, skilled nursing services for patients undergoing therapeutic intravenous procedures.
When you choose CSNA's infusion suite services, you can expect individualized and knowledgeable care from our infusion center staff members.
Take it from some of our wonderful infusion suite patients:
"Everyone at this facility is professional, knowledgeable, confident & pleasant. Every patient is treated with respect. I APPRECIATE THAT!"
"I am very comfortable when I go for my infusions. Kristen is always very caring and nice and I'm glad it's always the same nurse, not a whole bunch of different people, which I appreciate. Aspen (who I always seem to speak with), at the front desk, always gets back to me with any info I might need. Very professional, caring people for sure."
"The nurses there are attentive to your every need & comfort!"
"This infusion suite has always been staffed with the most friendly and caring nurses. I've been coming for many years and I relieve high quality care by people who care. I'm so grateful."
Patient Amenities
Your safety, comfort, and wellness are important to us at CSNA. Our infusion suite is designed to accommodate your needs with amenities such as:
Personal tablets
TVs
Quiet and clean facilities
Comfortable seating
Wireless internet
Free on-site parking
Our team also provides flexible scheduling options, professional and caring service, and customized support when it comes to billing and financial assistance.
"This infusion site tops them all! They are flexible with my appointments, understanding of any needs or concerns, very helpful with any billing or financial issues, communicate effectively and timely, and are very kind and just good people. I don't want to go anywhere else, ever! thank you."
Infusion Therapies We Offer
We're proud to offer treatments for a broad range of conditions at our infusion center. Infusion medications available at CSNA include:
Actemra
Avsola
Benlysta
Entyvio
Gamunex
Inflectra
Lemtrada
Ocrevus
Octagam
Orencia
Remicade
Renflexis
Rituxan
Simponi Aria
Soliris
Stelara
Truxima
Tysabri
Vyepti
"All the staff at the infusion suite are fantastic! They are friendly and helpful and work with you to reschedule due to unexpected circumstances or illness. I love coming here for my infusions and am very grateful that this is an option for me. Plus, an added benefit is how well they work with my financial assistance program. Thank you CSNA for providing such excellent service!"
Our team is dedicated to providing a safe, comfortable, and professional experience. If you have questions or would like to schedule an appointment, please call 719-306-0010 to learn more.